How can FM in the hospitality sector serve the business more efficiently?
Work smarter, save money, take back control
In the hospitality sector it's a constant battle to deliver the best FM possible across multiple sites that operate 24/7

And in the post-Covid world, compliance demands are increasing and budgets are tightening. Meanwhile, visitor expectations for flawless experiences have never been higher.

You need to keep on top of maintenance requests and be smart with your budget to extend asset lifecycle and get the most from your contractors.

What do you need to bring it all under control?
SLA Management
Maintain high levels of service by monitoring performance by Contractor & Engineer
Cost Management
Stay on budget and make data-driven decisions over maintenance spend
Time Tracking
Audit your contractor costs with time-sheets in order to quickly identify cost savings for non-service
Asset Lifecycle
Better deploy your capital by pinpointing assets which have reached end of life
REAL TIME CAFM ACROSS EVERY DEVICE
Control costs & optimise performance through a single platform
Improve your digital oversight and optimise contractor performance with a 'mobile first' approach to engineer and asset management. Real time reporting that works on every device.
Engineer Time & Attendance Tracking
Engineers show attendance and log their time via the mobile web-application. One touch to turn the timer on, pause or stop recording. Track how much time your engineers spend servicing your work orders for more accurate billing and service transparency.
Asset based requests
Scan a mobile QR code for a full service history. Identify recurring problems, update records and manage asset lifespan more effectively
Real-time Reporting
Visualise how you and your suppliers are performing against targets with an SLA report. Aggregate KPI performance to identify strengths and weaknesses. See how quickly your teams and contractors respond to service requests.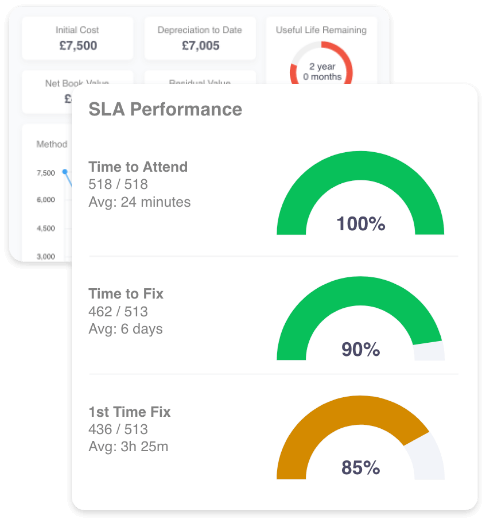 What some of our clients say
---